Welcome to Stonehaven Park,
Let's find you a new family member
We'll help you find the right dog to match your home environment and lifestyle. We offer a range of different dog breeds that have all been bred and raised by us with love.
Sign Up For New Litter Announcements
12 Different breeds to choose from
A dog for every type of family & lifestyle
We pride ourselves on offering the cutest range of puppy breeds to choose from. We offer breeds including Cavalier King Charles Spaniel, Cavoodle, Cockalier, English Cocker Spaniel, Golden Retriever, Groodle, Miniature Schnauzer, Poodle, Rottweiler, Schnoodle, Spoodle, and West Highland Terrier.
If you're unsure about what type of breed would be best suited to your family, environment and lifestyle, you can contact us for a chat and we'll help you decide.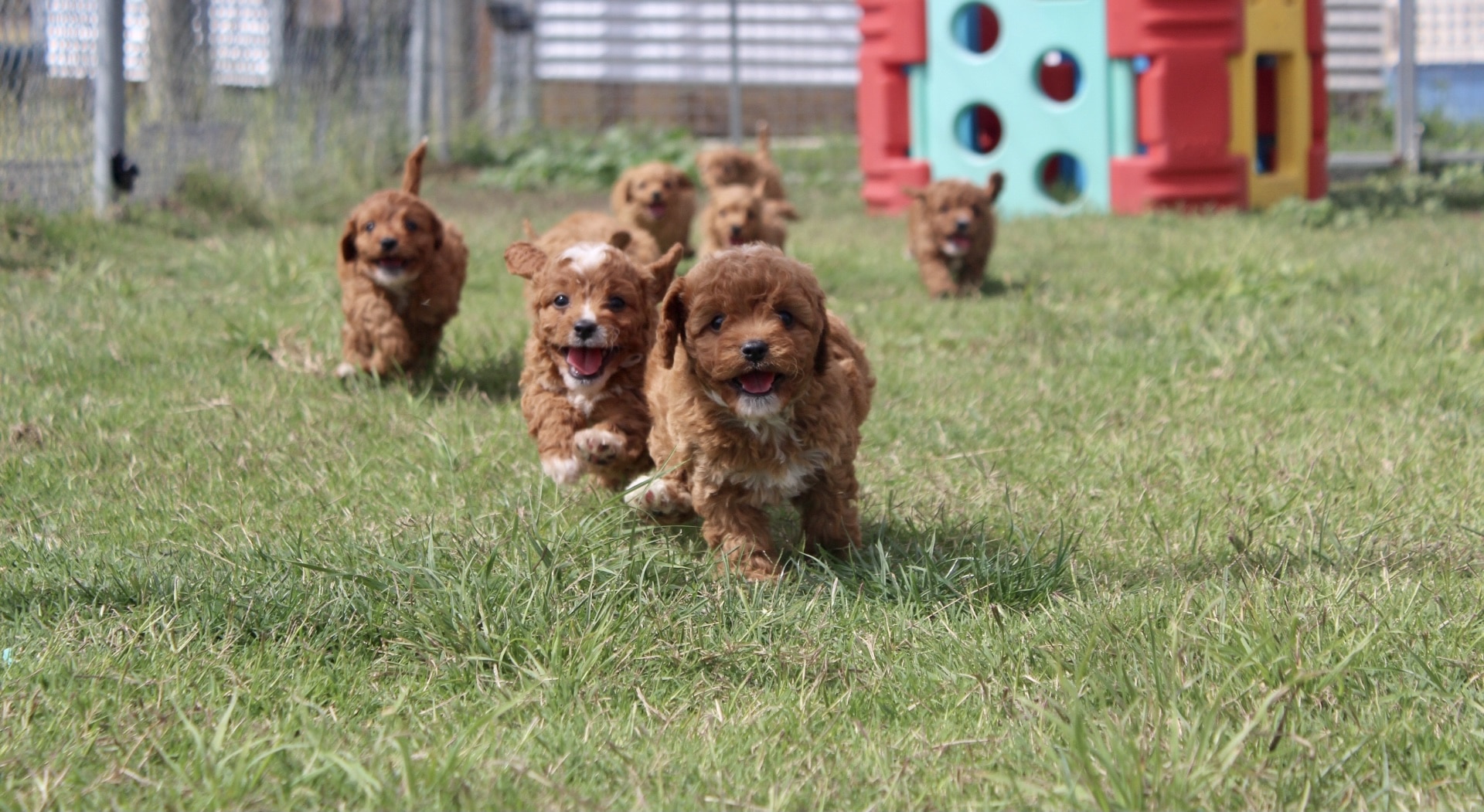 Deluxe Nursery
Our nursery provides the best conditions for mums & their puppies, including heated floors, wood heater, air conditioning, fully insulated & fans.
Large Play Yards
Our large yards give our puppies and dogs amples of room to run around, explore and play mind stimulating games on a daily basis.
Health Guarantee
Every puppy sold by Stonehaven Park comes with a 3 year money back health guarantee against any disease related back to its breeding or origin.
Puppy Pack
Puppies come with a puppy pack and are also microchipped, vaccinated, vet checked, wormed, desexed and treated for fleas, ticks, & parasites.
We pride ourselves in accommodating healthy and happy puppies to families across Australia. We focus on the health and welfare of all our dogs, with our mission to uphold our excellent standards from your first enquiry to the day you bring your puppy home and followed by our support throughout the years to come. With over 20 years of experience, we uphold our reputation as a long standing breeder.
Fully Approved & Accredited
Animal Welfare Victoria Approved. Wellington Shire Council Domestic Animal Business No: WSC222015.
Pet Exchange Register No: BR101361
Victoria's First Approved Breeder
We were the first Victorian operated dog breeders to be approved under the new state regulations that apply to all animal breeders in Victoria.
We are proud of this and it shows the level of commitment we have to maintain the highest standards in what we do and providing the best possible environment for our dogs and puppies.
From Our Happy New Dog Owners
we bought our Molly Moo from the January 2018 litter. every time she's been to the vet it is always commented on how laid back and easy going she is. Such a gentle giant that we wouldn't be without. would highly recommend Stonehaven Park. in our experience the puppies are beautiful in nature.
Our adorable Willow made our family whole in April 2022. She is our sunshine. She has a beautiful nature. We live opposite a dog park all the other owners love seeing her – you can hear people say – here comes the gorgeous Willow. She is very social no dog large or small matters, as she loves playing and running with them all. So much fun. Chloe was fantastic, she answered all my many questions before making the final decision. I would / actually already have recommended Stonehaven to people who have asked where did she come from, we want one like her!!
We got our Cavoodle Coco from Stonehaven Park in January. We went to meet her a few weeks before we picked her up. My son had decided on her name when he met her. The beautiful staff used her name in the few weeks before we picked her up. Such a caring team who are clearly passionate about the work they do. Wonderful place, wonderful staff and the most beautiful well looked after puppies. Our Coco has brought so much joy and laughter into our lives. Thank you Stonehaven Park for our beautiful fur baby ❤